How to Pick the Best Paving Contractor
If you're in the market for a paving contractor, it can be tough to know who to trust. There are so many options out there, and it can be difficult to know who is the best fit for your project. In this blog post, we will discuss what you need to consider when picking a paving contractor, as well as what to look for in order to make sure you're making the best decision possible.
Pavers are an excellent addition to any home or outdoor space, but most of the time you're going to want a professional to install them to get the look you desire. We want to make sure you have the best experience possible when it comes to your Fort Worth pavers so we hope to give you all the information you'll need to make the best decision possible.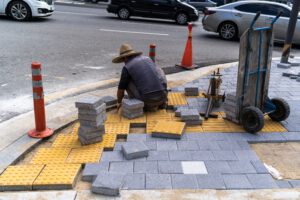 How to Choose the Best Paving Contractor
When looking for a paving contractor, there are a few things you'll want to keep in mind. Here are some tips:
-Get quotes from multiple contractors. This will give you a good idea of what the market rate is for your project.
-Check references and reviews. Past clients can be a great source of information when it comes to gauging a contractor's quality of work.
-Look at the contractor's portfolio. This will give you an idea of the kind of projects they have worked on in the past and what their style is like.
-Make sure the contractor is licensed and insured. This protects both you and the contractor in case something goes wrong with the project.
What to Look for in a Paving Contractor
Once you've narrowed down your options, there are a few things you'll want to look for specifically in order to make sure you're picking the best paving contractor possible. Here are some tips:
Experience: The more experience a contractor has, the better they'll be able to handle your specific project.
Quality of Work: Make sure to look at pictures of past projects the contractor has worked on. This will give you a good idea of the quality of their work.
Portfolio: As we mentioned before, looking at a paver contractor's portfolio is a great way to get an idea of their style and what kind of work they're capable of.
Team: It's important to make sure that the contractor has a team they can rely on. If something goes wrong during the project, you'll want someone who can step in and help get things back on track.
Warranties or Guarantees:  A good contractor will offer a warranty or guarantee on their work. This protects you in case there are any problems with the finished project.
Making the Best Decision
Now that you know what to look for, it's time to make a decision. Keep these tips in mind and you're sure to pick the best paving contractor for your next project. Picking the right Fort Worth pavers is a big decision so use all this information and your best judgment to pick the best contractor for your situation.  You can get a paver in Flower Mound by clicking here.